In November 2003, I was there and been reading an old mass-market paperback of Camus that had sent from Japan with other goods to be moved.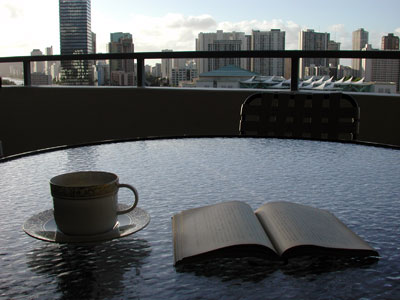 That was an early morning and my children were falling asleep then. I suddenly made up my mind to capture the scene no one knows except God (if God exists) and myself.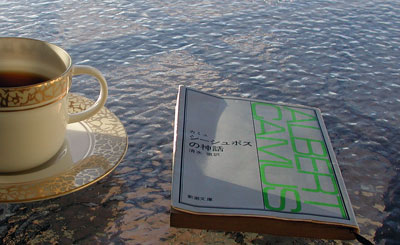 That's a novel Camus wrote ---
Le Mythe de Sisyphe
/ The Myth of Sisyphus --- I had been keeping that small book since I was in a high school but I've lost that in 2007, maybe.
Have you read that?
'There is no hope to live in this world but I have to live as long as I live because I was blessed with children' --- I thought when I took these photos at the time.
A week before last, I've found a book of Camus on Internet auction while searching something related to my new artwork.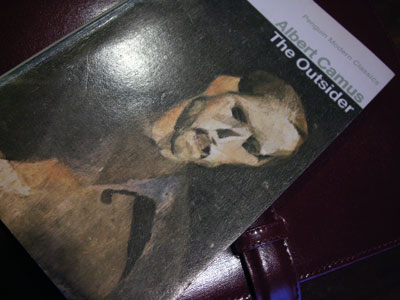 The Outsider
--- it must be very old I thought ---
I really wanted to get it and read it in English because most of foreign books translated into Japanese particularly has philosophical side in it were often became an esoteric style and it would get on my nerves.
So I bid this off at $10.00 (it's not very cheap) and took the photo as same as I did in 2003.
Albert Camus was born in Algeria in 1913 of Breton and Spanish parentage so he was not Arab. I knew a bit of his history but I haven't think about the real sights of this story until now.
It is no doubt the area of Maghreb/Maghrib is one of the most beautiful places in the world. Maghreb/Maghrib is an Arabic word, literally meaning "place of sunset" or "the west".
On the other side of this area especially refer to Algeria; the majority of people have some serious problems for living peacefully.
Somehow my thought has been in the "amber coloured country" for long time. It's not mentioned just about actual colour of course but I don't know how to express my feeling --- It's beyond words.
Algeria has something about it.
I felt, finally I found a place that I desired to live.
But how can I get a right to live...?