It was the best birthday dinner in my life.
I went out to my favourite Italian restaurant to dinner with my son and a daughter.
When we went into the restaurant, the owner was sitting at table with his friend and gave us a hearty welcome. It was the first met with his friend but he was very friendly from the beginning.
At first, we ordered very special antipasto as usual. That antipasto is not in the menu but the extremely good-tempered Moroccan chef remembers our favourite and always prepares it only for us.
We brought an Italian red wine that was my favourite but quite cheap.
(Joseph, I drank wine so I will go to hell if you are right. I will be a bad (or perhaps good) example for you. Well then,--- who could check my world after death? )
Anyway, we were enjoying dinner and talking quietly till the owner asked us for our needs. I'm a regular customer at that restaurant so we were talking just like a friend and I said it's my birthday today in the conversation.
As soon as the owner heard that, he gathered waiters and a waitress to our table to sing a birthday song for me. And then, he asked to his customer if he knows Japanese expression to say 'Happy Birthday' to me when he came into the restaurant.
The guy (is a radio commentator the owner said to me) came to kiss me on my cheek and celebrated my birthday however he is complete stranger for me.
And owner's friend showed me his iPhone displayed Japanese words "誕生日おめでとう" but he didn't know how to pronounce it.
What a nice guys they are!!!!!
We enjoyed so much and I appreciated their kindness from the bottom of my heart.
When we were drinking coffee after meal, suddenly all the lights turned off and a waitress brought a cake with candle to me.
I was so surprised and deeply moved by their thoughtfulness.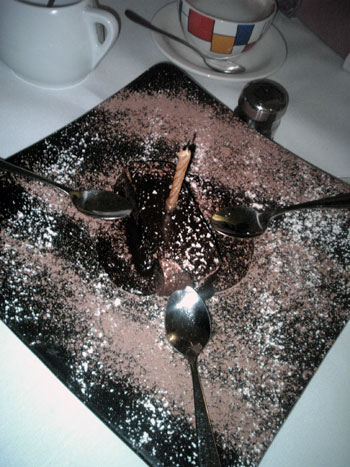 I've never thought about such warm and surprising birthday party in my life.
I will never forget this wonderful treatment in the Italian restaurant "Milano" in Parnell.